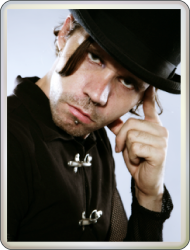 Often referred to as a "Jack of All Trades", Los Angeles based, Robbie Lizhini reminds us to ignore the popular phrase ends with "Master of None". With a skill set that runs among Popular Technology, Writing, Film, Music and the Visual Arts, it is often believed that he is some sort of synthetic life form. This hasn't exactly been disproven.
"It should have been picture perfect," Robbie relates, "being born in a beautiful seaside welsh village. It would have been to; if I'd not been uprooted right when I got my English stereotypes sorted and dropped in the spiraling chaos that was East Philly." Since those fond childhood memories, he went on to stud yat the Cincinnati school of art for the last two years of high school. After graduating primary education he went on to gain a BA in Film and Video production in Knoxville, TN.

Robbie currently works as an IT manager at Corona Lighting, a national lighting manufacture in downtown Los Angeles. By day using the skills he gained, through his Father who is a computer programmer. "He would often leave computer parts where I could get to them when I was young.  Along with loads of books on C+, pascal, and more embarrassing things like, Lotus Notes." His skills with hardware and programming easily lured him towards an obsession with anything that has a GNU liscense.

That obsession has led him into a three year love affair with Android which continues to only grow stronger with time. In those three years, he like many other rabid programmers have found a great hobby in the Android modding community. Now on his third android phone he is currently working on a Cyanogen port for the Sidekick4g, and also active in the Nook Tablet Mod scene.

Robbie is also a published Fiction writer, and Tech journalist. Having worked as a staff writer for the upstart site, ranker.com, he has often written app reviews for Android news sites likePhandroid.com.
For now Robbie Lizhini, spends his time away from his responsibilities, by writing half penny shortstories, drawing web comics, the music project 'A-B Synthe' and vegan outreach.